Set of biscuits Congratulations! Caramel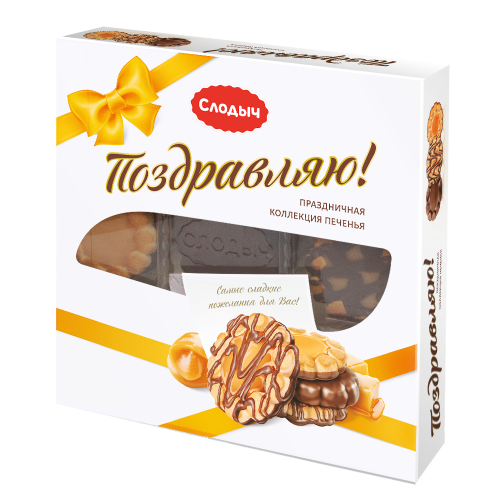 Description
Sugar biscuits with filling: partly glazed, decorated, glazed with confectionery glaze.

The set of biscuits includes partly glazed biscuits Congratulations! Caramel – 124 g, decorated biscuits Congratulations! Caramel – 132 g, glazed biscuits Congratulations! Caramel – 144 g.

Ingredients: straight white wheat flour, Caramel filling (sugar, hydrogenated coconut oil, glucose syrup, low-fat condensed milk (non-fat pasteurized milk, sugar (sucrose, lactose), drinking water, acidity regulator: citric acid, flavoring agents, coloring agents: Sugar Color IV, paprika extract, sodium salt of riboflavin-5-phosphate, preserving agent: potassium sorbate), confectionery glaze (sugar, untempered lauric cocoa butter substitutes (natural and modified refined deodorized palm kernel oil, emulsifiers: sorbitan tristearate, soy lecithin), cocoa powder, emulsifier: soy lecithin, flavoring agent: Vanillin), sugar, refined deodorized sunflower oil, invert syrup, egg products, whey powder, baking powder (sodium bicarbonate, ammonium bicarbonate), iodized salt (potassium iodate, anticaking agent: potassium ferrocyanide), emulsifier: sodium stearoyl-2-lactylate. May contain traces of peanuts, sesame seeds, cinnamon, and honey.

Average nutritional value per 100 g of product: protein – 5.0 g, fat – 25 g, carbohydrate – 60 g, energy value (caloric value) – 2010 kJ (480 kcal).
Package weight:
— 400 g
Shelf life:
6 months
Other cookies of this category