Slodych premium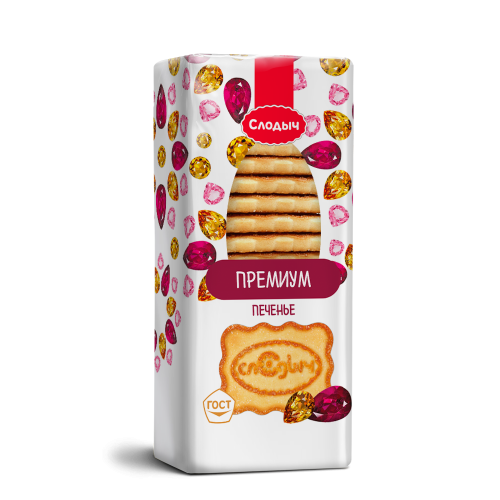 Description
Sugar biscuits of a rectangular form are made from prime quality wheat flour with the addition of sugar powder and condensed milk, etc. The upper surface of the biscuit sprinkled with sugar and covered with beaten egg.

Ingredients: wheat flour, sugar, margarine (A: refined deodorized vegetable oils, water, iodized boiled edible salt (potassium ferrocyanide anti-caking agent), milk whey powder, emulsifiers (soya lecithin, mono - and diglycerides of fatty acids, antioxidant: citric acid), sugar, preserving agent: potassium sorbate, coloring agent: beta-carotene, flavoring agent, antioxidant: mixture of tocopherols concentrate); B: natural and modified refined deodorized vegetable oils including soya oil, water, emulsifiers: polyglycerol esters of fatty acids, mono and diglycerides of fatty acids, salt, sugar, preserving agent potassium sorbate, acidity regulator citric acid, flavoring agent, coloring agent beta-carotene, antioxidant: ascorbic acid, alpha tocopherol), condensed whole milk with sugar (normalized milk, sugar (sucrose, lactose)), corn starch, invert syrup, glossing composition (egg products, fructose, invert syrup) egg products, vanilla powder (sugar, "Vanilla" flavorant, "Vanilla extract" vegetable extract), iodized salt (potassium iodate, potassium ferrocyanide anti-caking agent), baking powder (sodium bicarbonate, ammonium bicarbonate), sodium stearoyl-2-lactylate emulsifier. May contain traces of peanuts, sesame, honey. Letter code is in front of the date of manufacture.

100 g of product contains (average values): proteins - 7,5 g, fat - 14 g, carbohydrates - 70 g. Energy value (average value) per 100 g of the product kcal / kJ - 440/1830.
Package weight:
— 390 g
— sold by weight
Shelf life:
10 months
Other cookies of this category